What is Walk to Emmaus
The Walk to Emmaus is a spiritual renewal program intended to strengthen the local church through the development of Christian disciples and leaders. The program's approach seriously considers the model of Christ's servanthood and encourages Christ's disciples to act in ways appropriate to being "a servant of all." Find More on Upper Room Ministries website»
Click here for an introduction video to Walk to Emmaus
Our Vision
Fourth Day Leaders Embodying Christ!
Our Mission
Empowering Leaders through Emmaus and Chrysalis to be the hands and feet of Christ!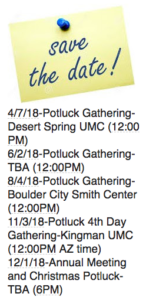 LINKS TO WALK TO EMMAUS SPONSOR GUIDELINES
Walk To Emmaus Sponsor Guidelines_ 2017
Walk to Emmaus Pilgrim Application_ 2018
Donations, memorial and honoring gifts can be mailed to 
Southern Nevada Walk to Emmaus,
c/o Boulder City UMC
POBox 61075,
Boulder City, NV 89006.